Book Cities (Detroit-Inglewood-Bronx)

Locations: Thirkell Elementary (Detroit), Century Park Elementary (Inglewood), Urban Scholars Community School X463 (Bronx)
Date: Completed 2022
Category: Installation
Size: n/a
Client: Wide Rainbow
A large modular library designed for Wide Rainbow, a non-profit contemporary art after school program based in NYC. The design concept was an expansion of the original "Book Towers" idea into a "skyline" of books, inspired by New York City skyscrapers and rainbows. The combined pieces suggest both architectural facades and facial emoticons, fabricated by local studios in each city using CNC routing and bas relief logos.


For the 2022 school year, three site-specific libraries will be donated to community partners in Detroit, Inglewood, and the Bronx with support from Burberry. Each library includes over 1000+ brand new books (sourced by local booksellers) and curated for each neighborhood by educator and librarian Asmaa Walton of the Black Art Library.

The first installation was at Thirkell Elementary in Detroit, Michigan. Thirkell is one of many schools that no longer has a dedicated library space, so the set of 3 mobile units was designed to fit inside the auditorium utility closet and rolled out for reading time. The floating cubes dock onto the main units or onto each other to form desks, benches, and stools.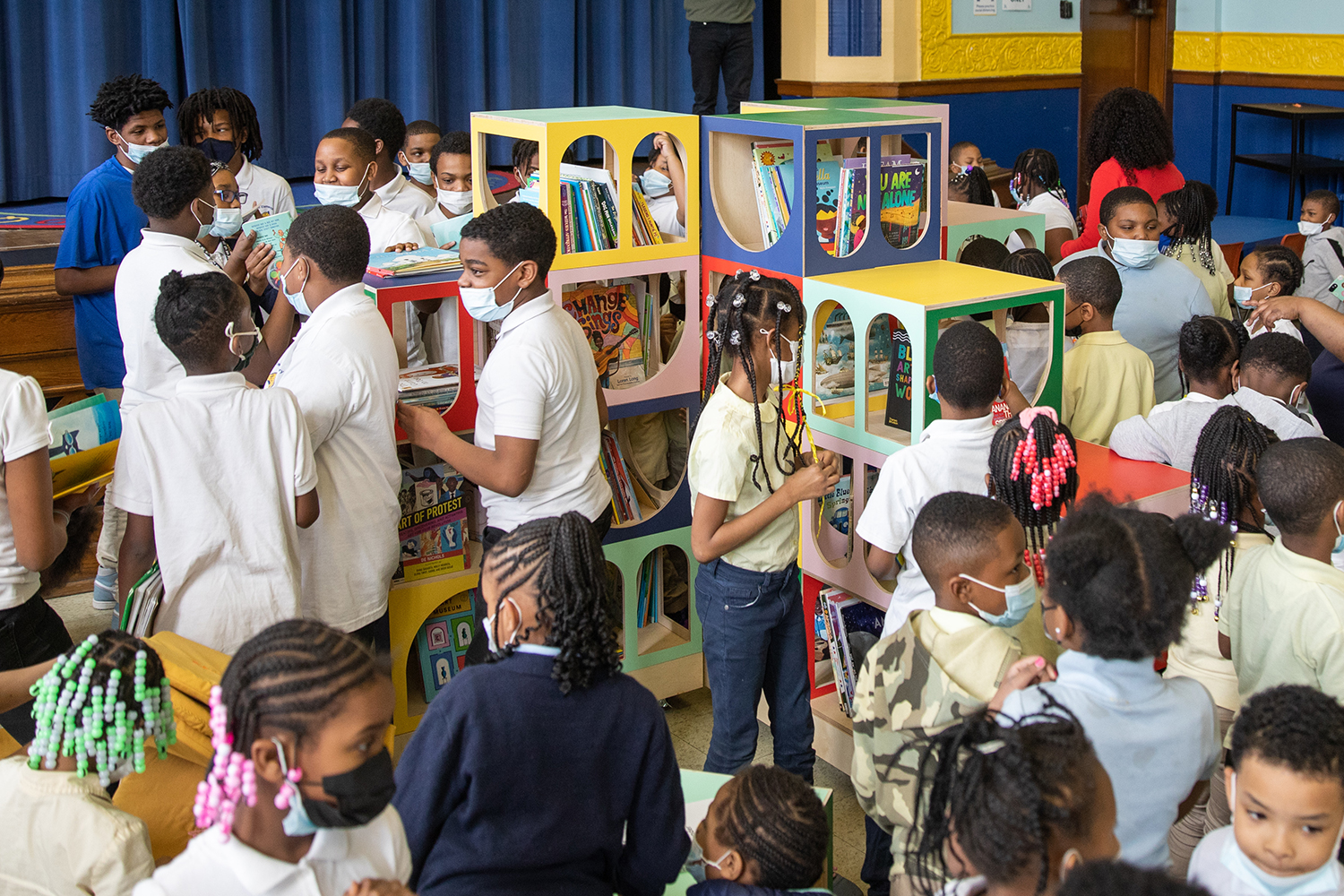 The second installation was at Century Park Elementary in Inglewood, California. The Inglewood library was designed as a set of 4 smaller pieces that can be rolled outside for al fresco reading, complete with a mural by artist Nina Chanel Abney.