Book Cities (Detroit-Inglewood-Bronx)

Locations: Thirkell Elementary (Detroit), Century Park Elementary (Inglewood), Urban Scholars Community School X463 (Bronx)
Date: Completed 2022
Category: Installation
Size: n/a
Client: Wide Rainbow
In 2022, we teamed up with local arts education organization, Wide Rainbow to design mobile modular bookcases for Title 1 Public Schools with limited pandemic recovery programs. Each custom library promoted art-based literature that was inclusive of the populations served, curated by Asmaa Walton of the Detroit-based Black Art Library. Walton's collections serve as a living archive for Black art, text, and cultural ephemera; centering BIPOC artists and historical figures to promote art literacy and recovery of learning opportunities lost to the pandemic.

Building off a pilot version through the support of Herman Miller Cares, we designed fifteen, 100-book mobile libraries for shelters and public schools throughout New York as well as three, 1000-book mobile library "cities" in Detroit, Inglewood, and the Bronx. Each library was finished by local fabricators on-site, establishing grassroots connections with community leaders through the activation of small businesses and independently owned local bookshops.

The flexible modular system is easily adaptable, reflecting the unique needs of each community organization. The Wide Rainbow Libraries use the language of design to embody pure joy: When combined, the vibrantly painted panels allude to 'emoticons' of laughter, hope, and friendship. Designed with intention, this cost-conscious attribute allowed for broader interpretation within systems and maximized personal expression and a sense of playfulness with every configuration. Because many sites did not have dedicated libraries or storage facilities, each library can be separated and reconfigured in several ways to operate between the scales of furniture or walls.

Wide Rainbow is a 501c3 non-profit based in New York City. They directly connect women artists and curators to underrepresented communities without access to the arts or contemporary arts education. They developed this project through the support of the Burberry Foundation as part of its Literacy Initiative in 2022.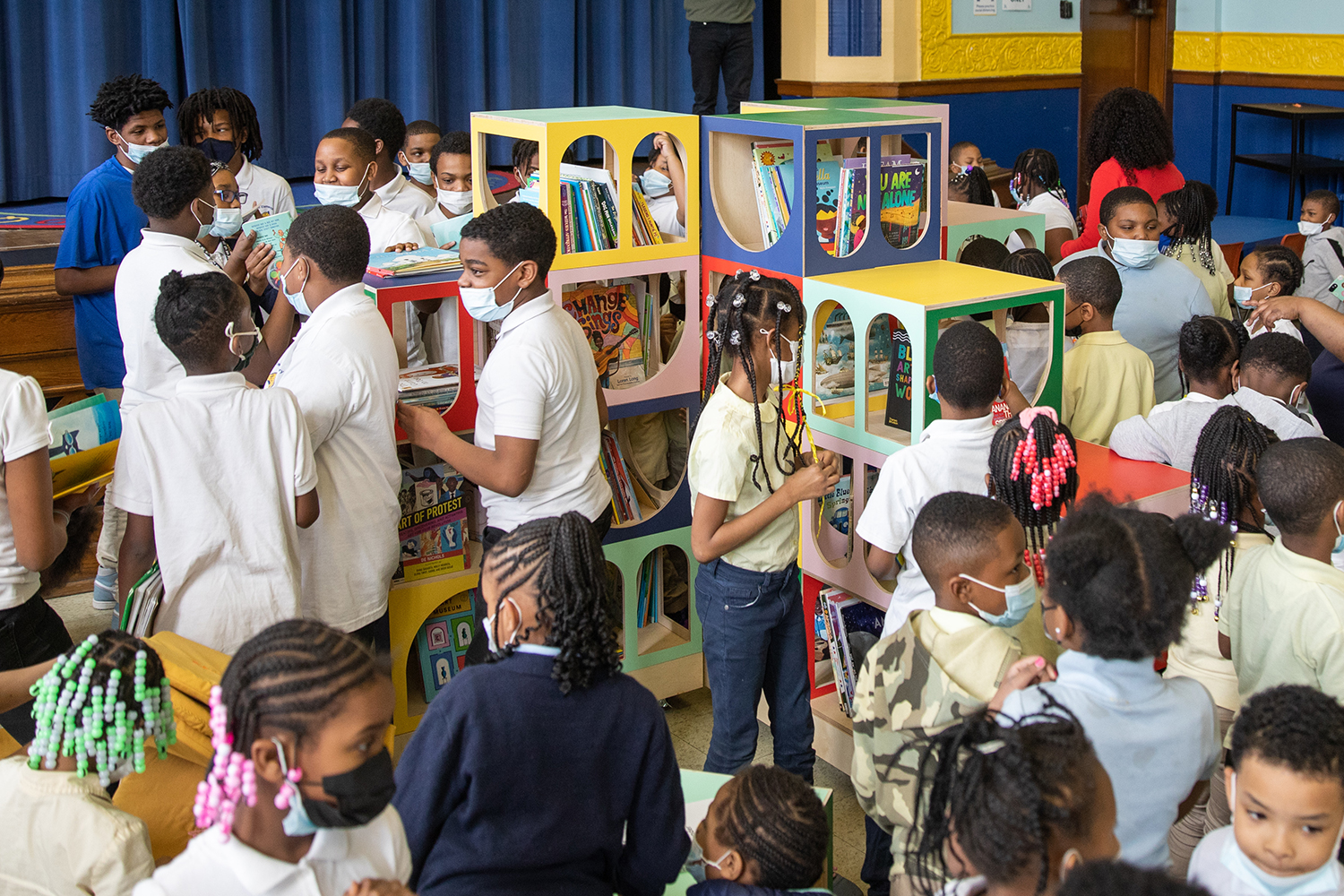 The second installation was at Century Park Elementary in Inglewood, California. The Inglewood library was designed as a set of 4 smaller pieces that can be rolled outside for al fresco reading, complete with a mural by artist Nina Chanel Abney.